Haneda Airport
Tokyo Tourist Information Center Shinjuku Expressway Bus Terminal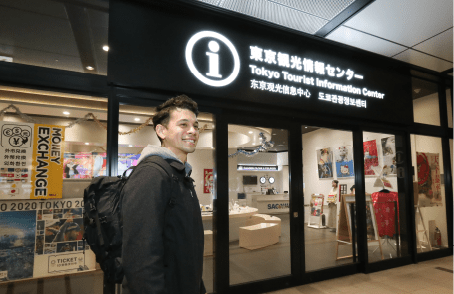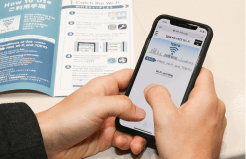 I went straight to the tourist information center once I arrived at the Shinjuku bus terminal by bus from the airport. Here you will find travel information for domestic as well as foreign visitors to Tokyo. Services are available in English, Mandarin and Korean. Feel free to ask about itineraries, transport options, recommended sightseeing spots, and anything else travel related.
TOKYO FREE Wi-Fi is available in the Tokyo Tourist Information Center, so I took a look at the recommended information suggested by the staff.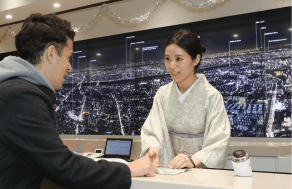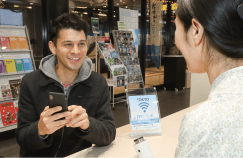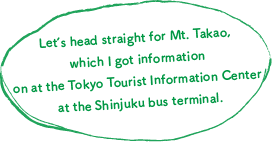 Keio Line Shinjuku Station

Keio Line Takaosanguchi Station

Cable Car Kiyotaki Station

Cable Car Takaosan Station
Mt. Takao
While Mt. Takao is located only an hour away from central Tokyo, you will find yourself surrounded by nature as soon as you get here. Did we mention that Mt. Takao is actually a Michelin 3-star tourist attraction with 3 million visitors every year?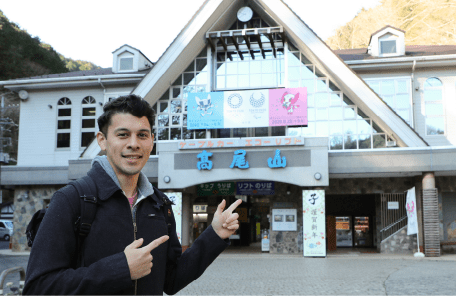 There are several mountain trails you can take. Hiking up from the bottom to the summit will take about one and a half to two hours. You can also take the cable car from the bottom and start halfway. The cable car takes about 6 minutes per way and, with its steepest slope measuring 31 degrees, Mt. Takao's cable car route is the steepest in Japan. Make sure you take some pictures of the view that the cable car ride offers you.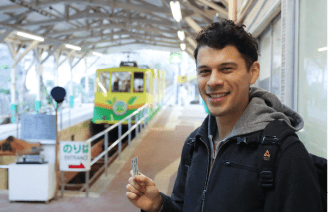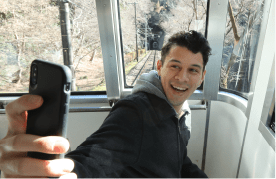 When you get off the cable car, you can take the basic Trail 1 straight to the mountain's summit. Trail 1 is a well-maintained, walker-friendly trail that passes the walkway to Mt. Takao's Yakuou-in, so even inexperienced mountain climbers can enjoy themselves here.
Gigantic trees growing there for ages line the trail and allow you to soak up the great nature.
After around an hour walk from the cable car station, we are finally at the top of the mountain! Enjoy the gorgeous view of central Tokyo from here. On days with good weather you can also see Mt. Fuji. Take in the beautiful scenery spreading out in front of your eyes.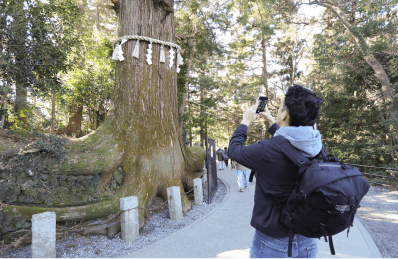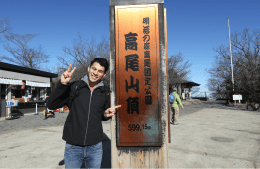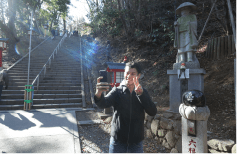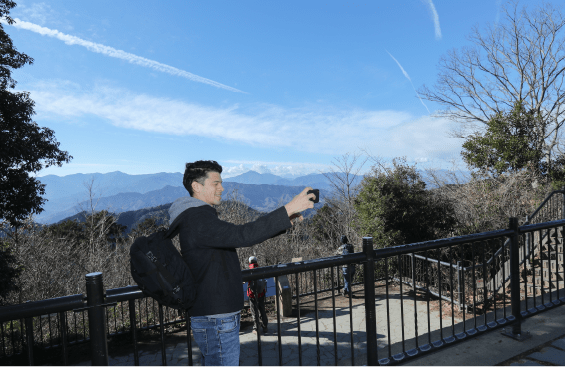 Takao Visitor Center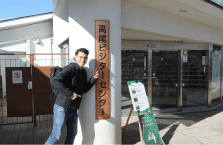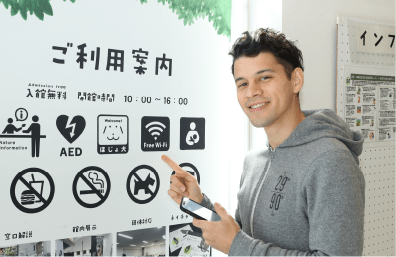 Located at the top of Mt. Takao, the nature park facility of Tokyo prefecture provides information about the nature of Mt. Takao. Not only can you learn about Mt. Takao through exhibitions and the magnificent pictures of Mt. Takao shown in slideshows, but you can also visit the Mt.-Takao-themed craft shop.
"TOKYO FREE Wi-Fi" is also available here. Upload pictures and videos you have taken along the way to SNS, or look up places you may want to go to after your visit at Mt. Takao.
Address: 2176 Takaomachi, Hachioji City, Tokyo
Telephone: 042-664-7872
Business hours: 10:00 am - 4:00 pm
Regular holidays: Mondays (closed the next day if Monday is a holiday), and New Year Holidays
Admission: Free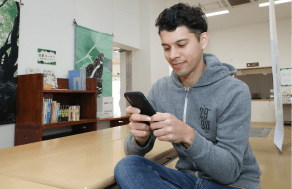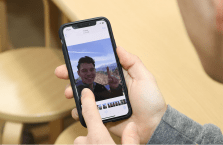 Try Trail 4, the "Forest and Animals Trail", on your way back down. On this trail you get to enjoy more mountain climbing than on Trail 1. Along the way you will pass all sorts of tall-grown trees as well as a suspension bridge. Depending on the season, you might also be able to hear birdsong, so make sure to pay close attention as you make your way down.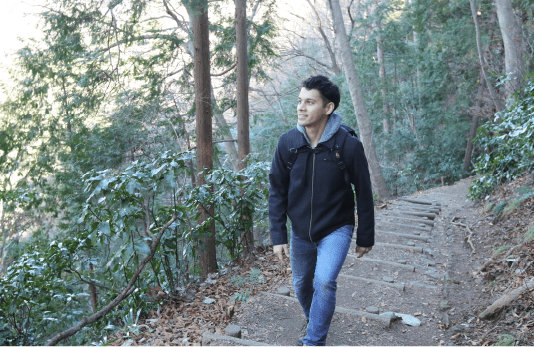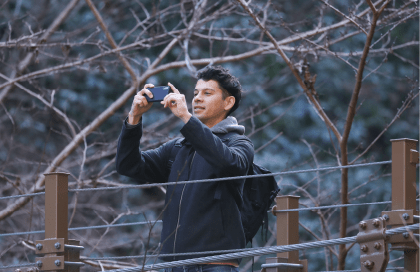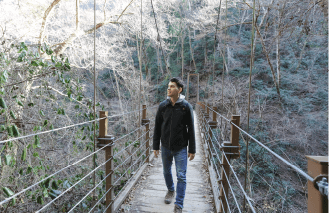 Cable Car Takaosan Station

Cable Car Kiyotaki Station

Keio Line Takaosanguchi Station

Keio Line Takahatafudō Station
Takahata-Fudoson Kongoji Temple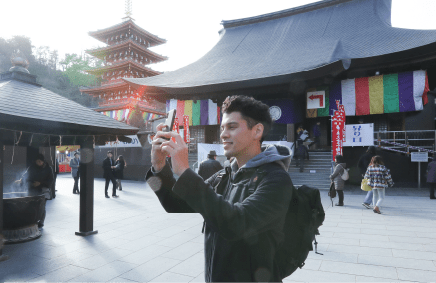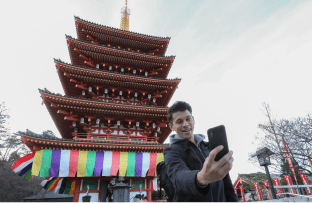 People visit the Takahata-Fudoson Kongoji Temple on many occasions throughout the year, such as the first temple visit in the new year, on "ennichi" on the 28th of every month, or on "setsubun", the day before the beginning of spring. On the temple's ground, enjoy the mountain trees that change with the season. Noteworthy are the temple's Ajisai (hydrangea) Festival and Momiji (red leaves) Festival, with gorgeous views that you can only see during those times.
You will also find some of Tokyo's oldest cultural heritage buildings on the temple's ground: there is the Fudodo, one of Japan's important cultural properties, and the Five Storied Pagoda, whose construction spanned five years. They project a sense of Japan's traditional culture.
Address: 733 Takahata, Hino City, Tokyo
Telephone: 042-591-0032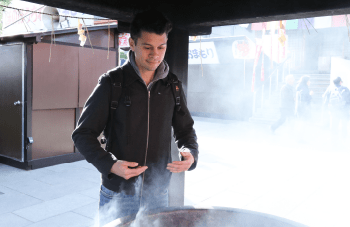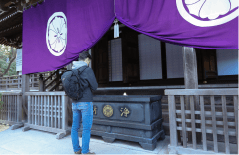 Keio Line Takahatafudō Station

Keio Line Shinjuku Station
Around Shinjuku Station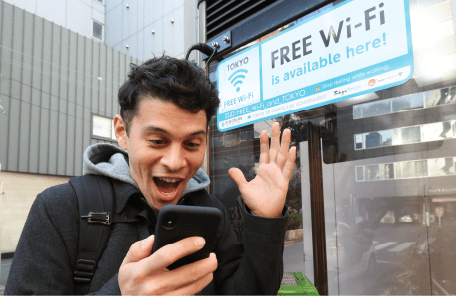 You can't visit Tokyo without paying a visit to Shinjuku, where all the brand shops, appliance stores, and entertainment facilities come together. There are also quite a few Wi-Fi hotspots from which you can connect to TOKYO FREE Wi-Fi around Shinjuku Station.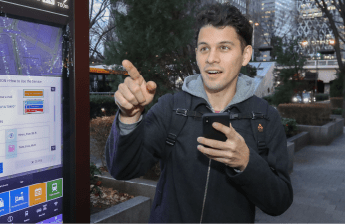 Connect to "TOKYO FREE Wi-Fi" when you have found a public phone booth and upload pictures and videos from Takahata-Fudoson Kongoji Temple to your SNS. You can also connect to TOKYO FREE Wi-Fi wherever you see digital signages for looking up tourist information. Going around looking for the Free Wi-Fi stickers on public phone booths or digital signages feels a lot like being on a treasure hunt.
Tokyo Metropolitan Government Building Observatories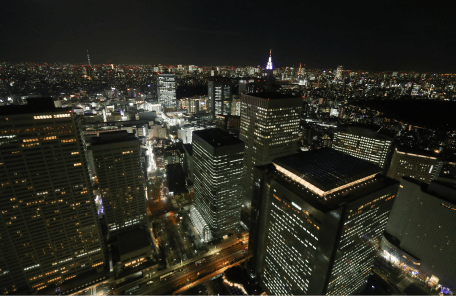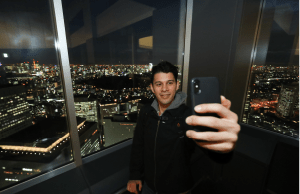 Admission to the observatories is free. Depending on where you are looking from, you will either be able to see Tokyo Tower, the Tokyo Skytree®, or all the buildings in the Shinjuku Area. We recommend coming at night to see all the buildings with their multitude of lights sparkling like a lightshow. Make sure to take a good number of pictures of the beautiful night city view with its interweaving skyscrapers. Connect to TOKYO FREE Wi-Fi here to share pictures you have taken with your friends at home. Address: Tokyo Metropolitan Main building No.1, 45F, 2-8-1 Nishishinjuku, Shinjuku-ku, Tokyo
Telephone: 03-5320-7890 (10:00 am – 5:00 pm on weekdays)
Business hours: 9:30 am – 11:00 pm (Admission closes 30 minutes before closing time)
Regular holidays:
See the latest information below
https://www.yokoso.metro.tokyo.lg.jp/en/tenbou/index.html
Admission: Free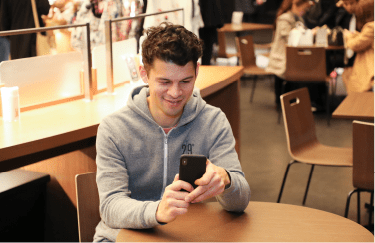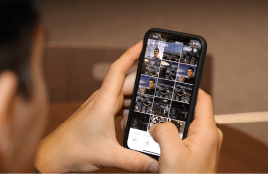 Shinjuku Station